Chamdo Facts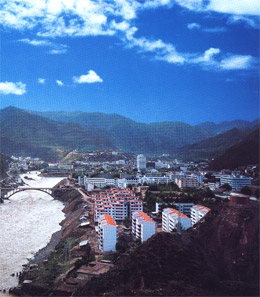 Located in eastern Tibet, Chamdo prefecture is contiguous with Sichuan Province to the east, Yunnan Province to the south and Qinghai Province to the north. Chamdo has complicated geographic situations, different topographies, various climatic conditions and dense forests. Chamdo is dissected by Dricku River, Tsarchu River and Gyermo Nguchu River, which flow through the region.
Chamdo has a total population of 583,600, which accounts for 12% of the total population of Tibet Autonomous Region. Chamdo administrates 11 counties, 24 towns and 118 townships with twenty-one ethnic groups including Tibetan, Han (Chinese), Hui, Zhuang, Naxi, Lhoba, Moinba and Bai.
Around Chamdo, there are the splendid sceneries of "Sacred Mountain and Holy Lake" of the Buddhism, Hinduism and the indigenous religion-Bon. There are also sites and ancient monasteries, buildings, steles, such as the Chambaling Monastery, Kanuo Ruins in Chamdo. The rich folk customs, religious culture and local festivals are still alive today.
Why Visit Chamdo?
Bright sunshine, clean and fresh air, crystal clear sky, vast grassland, snow-capped peaks are the typical sceneries in Chamdo. There are many sacred mountains in the Kham area, most of which are located in Chamdo. The Holy Lakes, such as the Ra'og Lake in Riwoqe County, are reputed as "pools of precious jade in western sky" for their beauty.
In Chamdo, there are many tourist sites located amid snow-capped mountains, fast-running rivers, thundering waterfalls, and dense forests. Then there are ancient monasteries, buildings, steles, villages and workshops---so many spots which can be dated back to ancient times. The Kanuo site in Chamdo (with a history of 4,000 to 5,000 years) is the first site of the Neolithic Age scientifically excavated in Tibet, displaying ancient civilization in the Lantsang River valley.
The prefecture enjoys social stability, dynamic economic development, convenient transportation and tourist facilities and good telecommunications. Chamdo is linked with other parts of Tibet, as well as Yunnan, Sichuan and Qinghai provinces through several national highways and Bangdag Airport.
Chamdo is abundant in natural resources. Copper Mine in Yulong is the second largest copper mine in Asia. Because of the special geographical structure, Chamdo has formed a rich nonferrous metal zone. There are over 70 minerals that have been verified by geological departments including gold, silver, bronze, iron, chromium, uranium, cobalt etc. There are also rich waterpower resources and dense forests.
Chamdo is the cradle of the Khamba culture, the most characteristic and the most vigorous part in the Tibetan culture. There are the Tibetan Buddhism and the rich Khamba folk customs, such as the residential housing, the costumes, weddings, funerals, bite and sups, and the folk arts. In Chamdo, there are old folk songs and dance traditions, such as the wild and vigorous Gorchom circle dance, the lithe and graceful Shinze dance, Repa dance (a type of Tibetan performing art, combining songs, dances, acrobatics and story telling), and the mysterious masked Chiangmu dance. People celebrate various traditional festivals, such as the Festival of the Ritual, when devotional people walk around the holy mountains, and the Horse Racing Festival. There are many villages which specialized in painting, woodcarving, spinning and weaving, and making gold and silver objects. What's more, Chamdo is also famous for its handicrafts and carvings dating back to ancient times.
Explore Chamdo
| Chamdo Entertainment | Chamdo Transportation | Chamdo Maps | Chamdo Climate | Chamdo Location |
| Chamdo History | Chamdo Tourist Sights | Shopping in Chamdo | Chamdo Festivals |