Tibet Facts
Name:
Short form: Xizang
Int'l long form: Tibet Autonomous Region (TAR)
Int'l short form: Tibet
Etymological: the name Tibet is derived from the Sanskrit word Trivistapa which means "heaven." Tibetans called their homeland Bod.
Geography:
Location: Asia, north of India, located on the Tibetan Plateau, the world's highest region.
Area: 1.2m sq km (471 700 sq miles), Bod: 2.5 million sq. km, approximately the size of Western Europe.
Terrain: 70% Grassland; from high plateau to tropical forest
Climate: Average temperture 28 degrees Celsius (Summer) -15 degrees Celsius (in Winter), extremely dry except during rainy season (July-August). Click here to know the best time to visit Tibet.
History:
Tibetan history can be traced thousands of years back. Tibet's history can be diveded into four period: The Tsanpo's Period, The period of Decentrailzation, The period of Sakya, Pagdu, and Karmapa's Rule, and The period of the gandan Podrang's Administration. Read More...
People: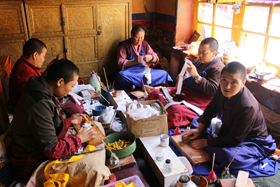 Population: 2.62 million
Ethnic Groups: primarily ethnic Tibetans; Menba, Lhoba, Mongols, Hui and a growing number of Han Chinese.
Religions: Tibetan Buddhism, Animism.
Culture: Wedding, Funeral
Languages: Tibetan, Chinese.
Festivals: Tibetan New Year, Shoton Festival, Bathing Festival.. Click to see more Fesitivals celebrated in Tibet.
Natural resources: Forests, wildlife, mineral resources, uranium (world's largest uranium reserve), hydro-, geothermal energy.
Agriculture products: Livestock and livestock products.
Industries: Mining, wool spinning, carpets, forestry, food processing, printing, building materials and machinery, tourism.
Currency: Chinese Yuan Renminbi (CNY)
Time:
Local Time = UTC +8h
Actual Time: Thu-Aug-25 15:35
Government:
Type: Communist party-led state (People's Republic of China)
The Tibet Autonomous Region was founded on 9 September 1965.
Regions and Cities:
Administrative Regions
Area Code
Regional Capital
Elevation of Capital (m)
Other Towns in this Region
Lhasa
0891
Lhasa City
3,658
Damxung
Shigatse (Xigaze)
0892
Shigatse City
3,836
Gyangtse, Tingri, Zhangmu
Shannan (Lhoka)
0893
Tsedang
3,500
Jiacha, Gongar
Nyingchi
0894
Bayi Town
3,000
Bomi, Basu, Ranwood,
Gongbuk Gyanta
Chamdo (Qamdo)
0895
Chamdo
3,240
Mangkhang, Banda
Nagqu (Nakchu)
0896
Nagqu
4,570
Amdo, Tuotuo River
Ngari (Ali)
0897
Gar (Shiquanhe)
4,300
Doma, Ritok, Tsada, Bakag, Chongpa, Taqing