Driving to Tibet: Golmud to Lhasa
Qinghai-Tibet Highway is 1,160 km (720 miles) long, and is the main state secondary road, with the roadbed being 10-meter wide, and an incline of less than 7%. The speed limit of drive is 60 km per hour. It's best to drive for 3 days from Golmud to Lhasa.
Suggested Day by Day Itinerary:
Day 1: Golmud – Tuotuo River
Drive southward from Golmud in the morning, passing Kunlun Pass (4,746m, about 60 km from Golmud), Kekexili Natural Reserve Region (largest one of its kind in China). There are many wildlife far away from your windwon which can only be seen in highland. Arrive at Tuotuohe River in late afternoon after passing the 1st Bridge on Yangtze River. Be prepared to cope with the mountain sickness today.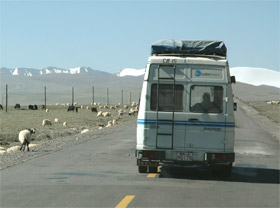 Day 2: Tuotuo River – Nagqu
Drive southward from Tuotuo River in the morning, passing Tangula Pass (5,231m, the borderline between Qinghai and Tibet, about 260km from Tuotuohe River). Today you will have a chance to see the North Tibetan Grassland, with uncountable beautiful lakes, small and blue, group of Tibetan yaks, Tibetan Tents, etc. Arrive Nagqu in late afternoon. Be advised that there will be no signal for your mobile phones for the whole journey except in big towns like Nagqu.
Day 3 Nagqu - Lhasa
Drive southward from Nagqu, overlooking the Mt.Tanggula in the distance (the origin of Both Yellow River and Yangtze River). Visit Lake Namtse if weather permits. Namtso is the world's highest fresh lake, and one of three holy lakes in Tibet. It is about 60km away from the highway. The road there is bad and dangerous. However, It really deserve it. Arrive at Lhasa tonight. Tour ends.
Tips
The itinerary is a backpacker's guide. We hope this information will enhance your self-discovery along the way. Our local agence could not oprate this tour at present, please contact our travel advisor if you have any questions.