Sakya Monastery
This monastery is a "must " for visitors to Tibet. Sakya, meaning "Grey Soil" in Tibetan since the soil surrounding it is gray; its walls were painted in red, white and grey strips, which represent Manjushri, Avalokiteshvara and Vajrapani respectively. Sakya Monastery, reputed as as the "Second Dunhuang", is the first Sakyapa sect of Tibetan Buddhism created by its initiator Khon Konchog Gyalpo in 1073 from which Sakyapa rose and once ruled Tibet, occupied 14,700 square km. It was shaped in square, and the trove including "Beiye Sutra", "Shouxing Picture" etc. Sakya Monastery not only records the history of the combination of religion and politics in Tibet, but also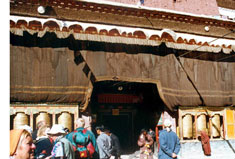 deemed as the sign that Tibet was brought into Chinese domain officially. Sakya Monastery has 900 years history and the Sakya Sect ruled Tibet for more than 70 years. So the monastery has a colossal collection of highly valuable art pieces, including abundance handwriting sutra that is said that copied by all the Tibetan calligraphists organized by Basiba. Sakya's collection of treasures also contains 3,000 pieces of sutras that have thousands of years history. The mural in Sakya Monastery is quite different from Dunhuang that has already become relic. Here the mural is still passed on from generation to generation.
Location:
The monastery lies in Sakya Country, 130 kilometers (80 miles) southwest of Shigatse
How to get there:
It can be reached by taking the bus at the Shigatse Bus Station to Sakya. The bus leaves at 7:00-8:00 and takes five hours at RMB 30 Yuan. There is a checkpoint before entering Sakya. Then walk along the road, you will see some white buildings on the left. After about 5 minutes you'll arrive at Sakya Monastery.
Opening Hours:
09:00-12:00; 14:00-18:30
Recommended Time for a Visit: Generally you need 3 hours to watch carefully, up to you.
Admission Fee:
RMB 45 Yuan per person
Comments:
Since the monastery has a colossal collection of highly valuable art pieces, it is deemed as the "Second Dunhuang".
Recommendation Indext: ☆☆☆
Tips:
(1) West from Shigatse about 170, cross Jiatsola Mountain (5,000 elevations), you'll find the Sakya Basin between Gangtis Mountains and Himalayas. The mauve castle in the center of the basin is the famous Sakya Monastery. Generally the Tibetan houses are all white, except houses in Sakya, where you will find all colored, so it's easy to find it.
(2) Because it is far from Sino-Nepal Road, so the living standard and materials supply are not so good. There are few restaurants on the street, and also the conditions in hotel are not sound. So if you want to stay a night, you'd better have psychological preparation. But the life is a little like that of past 200 years ago. Sakya Town Rest House (four persons room, 15 Yuan per one. Often lack in water and electricity). Simple food is offered in a few restaurants.
(3)The Sakyapa sect allows marriage and its religious power is descended from paternal uncle to nephew while its political authority from father to son.
(4) If you want to experience Diamond Buddhism Rituals, you can come in summer and winter when there will be large-scale and characteristic Diamond Buddhism Rituals. When performing the Holy Dance, the dancer all wear masks of Sakya Monastery Guard God and other different holy beasts. The holy dance vividly reflects the basic content of Tibetan Mizong holy dance killing devils. During these two rituals, thousands of lamas and crowd will come and worship, praying the holy dance bring happiness and fortune to human beings. And this is the golden season for travel in this monastery.