Rongbuk Monastery
A 78-kilometer (48-mile from the check point entering the Mt Qomonama mentioned before) trek leads to Rongbuk Monastery, which is the highest monastery on the earth. Its altitude is 5,100 meters (16728 feet).
The monastery was built in 1899, as a Nyingmapa monastery since it was said that once Padmasambhava, founder of Nyingmapa, preceded his religious cultivation here. The monastery destroyed in the Cultural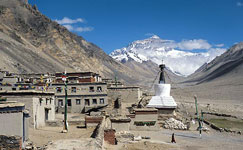 Revolution, having 8 sub-monasteries including a nunnery, is gradually restored. It houses Lamas and nuns in the same monastery. Sakyamuni and Padmasambhava are enshrined in the small temple. Pilgrims trek a long way to pay votive offerings or see lamas playing operas during big Buddhist days.
There is a hostel in Rongbuk with100 beds, a dinning room and a store, where tourists and mountaineers may have cooked food and instant food, even beer. 300 meters (980 feet) south of the monastery is the famous Rongbuk Glacier. A distance of 10 kilometers (6 miles) lies between the monastery and Everest Base Camp.