Atrractions of Pala Manor
One will be genuinely amazed by the display here, for many of the original contents of the reception rooms and bedrooms remain on show. Among the items there are an ox horn that would be filled with Qingke (a highland barley wine), fine porcelain bowls for containing ghee, an ivory Majiang set as well as precious fur clothes, glass cups, tins of biscuits and whiskey imported from Britain. The sun-room walls are hung with tiger and deer skins and further evidence of the wealth of the former owner are such things as a gold saddle and two gramophones that were manufactured in Great Britain. The other recreation rooms include a modern gymnasium with facilities for table tennis, badminton and other physical training equipment like ice-skates.
There are other foreign imports ranging from mundane things such as soy sauce and vinegar to more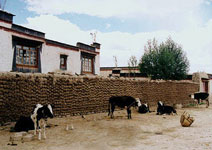 elaborate items such as ivory fans, rock crystal glasses and wristwatches as well as a range of cosmetics that would have been used by Pala's womenfolk. There are a great many things on show that would have been luxuries some half century ago. The exhibits include many very valuable items of jewelry fashioned from sapphires, turquoise, rubies, agates, diamonds and various other precious stones. Such was the wealth that was taken for granted by the Pala family while elsewhere the visitor can see how the unfortunate peasants were treated. Manacles, instruments of torture including blackjacks and punishment cells are on view.
Nowadays, things are very different, as modern buildings have been erected around Pala Manor. The former serfs now reside in them living a happy life with their offspring. Their old shabby houses remain as relics of a cultural past. The people now breed their own cattle, horses and sheep, something they could never have dreamed of just fifty years ago.
Tips:
RMB 15 Yuan for taking pictures there.