Ngamring Geothermal Springs
Located in the southern parts of Ngamring County West of Mount Kailash in Tibet, Ngamring geothermal springs is the largest Geyser. It is no fixed eruption periods and intermittent period.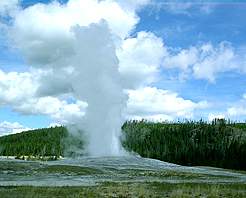 Each eruption duration of Ngamring Geothermal Springs is not consistent and the longest can continued for more than 10 minutes. Before the eruption, the water will up and falls, after repeating several times and suddenly a loud noise, there is white water ramp with a diameter of up to 2 meters into the sky, sometimes it will up to 200 meters.
The hot water rolling into a burst of hot rain sprinkled down from the air. Suddenly, the water column will retracted lzumiguchi.