The Gagyu Sect(the White Sect)and its features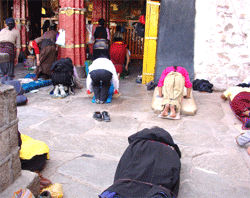 Marba founded the Gagyu Sect in the middle 11th century. Gagyu means 'to moralize and explain' in the Tibetan language, so monks of this sect handed down its tenets through statements rather than sutra. Its monasteries are usually painted white, and monks wore white monk robes when practicing Buddhism, therefore, it is also called "the White Sect". It was primarily divided into two main systems-Xiangba Gagyu and Dabu Gagyu, in the 14th century when the Yuan Dynasty had declined, one branch of the latter, Pazhu Gagyu, came into power in Tibet, taking the place of the Sagya Sect.
The three famous major masters of the Gagyu Sect are Marba, Milha Riba and Tabolhagyi. Among whom, Marba had been to India for three times to learn from many eminent masters, including Naruoba and Meizhiba, who ranked the 84th achievement masters of Tantric Hinduism. While the supreme master of the former was a strong-minded yoga gymnosophist with firm standpoint, who brought numerous supreme Tantric Hinduism to the snowy highland, offering boundless beneficence to Tibetan Buddhism and the Gagyu Sect. Milha Riba, the first disciple of Marba, however, was an achievement master. Being an apotheosis for all gymnosophists, he was regarded as the first generation Buddha through religious cultivation, holding a grand position in the hearts of the faithful believers. Moreover, Tabolhagyi, Milha Riba's disciple taught by his spirit, who was highly praised as the shining sun in the sky, carried forward the tenets of the Gagyu Sect and cultivated numerous outstanding disciples, making the reputation of the Gagyu Sect well-known in the snowfield.
Its succession system is summarized as "Four Large and Eight Minor", among which, Garma Gagyu、Pazhu Gagyu、Zhigung Gagyu、Dalung Gagyu and Zhuba gagyu are the most flourishing ones; the others, on the contrary, got lost or confluenced with other religious branches, only existing for a short period. Garma Gagyu took the lead in adopting the Living Buddha Reincarnation, taking the Black Hat Living Buddha as its chief, who had ever been invited, sustained and conferred the title by the Yuan and Ming Dynasties. The title of the Black Hat Living Buddha has been passed down to the 17th generation, the first recognized Living Buddha inland after the reform and opening, who is learning sutra in the Chubu Monastery at present.