Tibet Travel Permits
Though some restrictions still exit, the Tibet Tourism Bureau has started to issue Tibet Entry Permits to foreign tourists. Foreign travelers need to get 4 related documents to be able to enter Tibet.
Chinese Visa 中国签证
Application for a Chinese Visa should be made at a Chinese Embassy/Consulate in the applicants' country of permanent place of residence.
Tibet Entry Permit 入藏函
Issued by Tibet Tourism Bureau (TTB), this document is necessary for all foreign visitors to Tibet.
Travel Permit 边防证
Foreigners who want to visit an area of Tibet which is closed must apply for a Travel Permit after arriving in Tibet.
Military Permit 军区批文
Foreigners who want to visit a restricted military must apply for a Military Permit.
Tibettravel.info specializes in operating Tibet tours and China tours that is able to help our customers with a variety of needs. When a booking is confirmed with us, we will help our customers to apply for the required documents.
Passport & Visa
A passport valid for at least 6 months is required for all foreign people visiting Tibet.
When you enter Tibet from mainland China, make sure your Chinese visa is valid. Visitors with tourist visa only are permitted (business/resident permits/student visas are not permitted).
When entering Tibet from Nepal by whatever way,you need to obtain a separate visa valid for Tibet from the Chinese embassy in Kathmandu. (Usually it takes 2 weeks to get it and this visa is normally valid for 30-60 days.)
Tibettravel.info is able to assist you in getting a group visa for a minimum of 2 people. You will need to change the visa in China otherwise the group must leave China together. Read our Latest FAQs about China Visa to get more details.
Tibet Entry Permit
When a tour booking is confirmed with Tibettravel.info and application processed, you will receive the Tibet Entry Permit from our local office in the last city in China before departing for Tibet.
That is to say, if you leave for Tibet from Chengdu by air, you will get the permit in Chengdu. If you travel by road on the Qinghai-Tibet Highway you will receive the permit in Golmud. If you travel by train from Xining you will receive the permit in Xining. Travelers are asked to show this permit when boarding the flight for Tibet.
Tibettravel.info will make every effort to help our customers get the necessary documents after they confirm a tour booking. However, we cannot guarantee success as the Government has the right to refuse entry to any person.
How to apply for a Tibet Entry Permit?
Foreign visitors wishing to travel to Tibet must travel in a tour group with a guide and get Tibet Entry Permit with the help of the travel agent. To apply for a permit, you need to provide the following documents or information to us as your travel agent.
A copy of your passport;
A copy of your tourist visa for China;
Personal information, such as your full name, gender, date of birth, passport number, nationality and occupation.
Extra Requirements for F Visa Tourists & Z Visa Tourists
For F visa (business visa) or Z visa (working visa) holders, a certificate with full name, nationality, passport number, dates of entry and exit China, and the stamps of related organizations is needed when applying for a Tibet Entry Permit. See below for further certificate details.
For foreign people working in China, a certificate in Chinese issued by your company in China is needed;
For foreigners being invited to China for work, study, lecture, academic and cultural exchange, research or intern practice within 6 months, a certificate from your Chinese travel agency is required;
Travel Permit
What's the Travel Permit?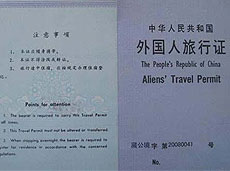 Issued by Foreign Affairs Section of the Local Public Security Bureau (PSB), a Travel Permit is also known as Aliens' Travel Permit (A.T.P). It is a must when foreigners wish to visit closed areas of Tibet. According to the Law on the Control of Entry and Exit of Foreigners (Order of the President of the People's Republic of China (No.31),22.11.1985, Chapter 4), it stipulates:
Article 20: Foreigners who hold valid visas or residence certificates may travel to places declared open to foreigners by the Chinese Government.
Article 21: Foreigners who desire to travel to places closed to foreigners shall apply for travel permits from local public security organs [i.e., the police].
How to apply for a Travel Permit?
Tibettravel.info can assist customers to apply for a Travel Permit after they enter Tibet. The local guide will need the customer's passport and the Tibet Entry Permit to submit to the Foreign Affairs Section of PSB. The whole process usually takes a few hours and cost 50 Yuan/person. We cannot guarantee success in obtaining the Travel Permit.
Key Notes for Tibet Travel Permit
Diplomats, journalists, and government officials can enter Tibet only when the Foreign Affairs Office of Tibet Government arranges a Tibet Travel Permit. A travel agent cannot apply for a permit for people in these categories.
What are the closed areas of Tibet?
Currently foreign travelers need the Travel Permit when visiting areas as below:
Tsetang Region
Samye Monastery, Tomb of Tibetan King, Changdruk Temple, Yumbulakhang
Shigatse Region
Sakya Monastery, Mt. Everest, Rongbuk Monastery
Gyangts Region
Pelkor Chode Monastery & Kubum Stupa
The Whole Nqari Region
Nyingchi Region
Basumtso Lake in Nyingchi Region
The whole of the Chamdo Region
Sakya Monastery, Mt. Everest, Rongbuk Monastery
Lhasa and Nagqu regions have no restrictions for foreigners holding the Tibet Travel Permit.

Closed Areas in Tibet(See the Highlighted Spots)
Military Permit
Foreign visitors wishing to enter the military sensitive districts in Tibet, such as some areas of Ngari, Nyingchi, and Nagqu, a military permit is a must. Issued by the Millitary Office in Lhasa, the customer's passport and Tibet permit are required to be presented when applying for a military permit. It usually takes 1-2 weeks at 100 Yuan/person.
DISCLAIMER: Tibet travel will try our best to arrange a Tibet permits for our customers who booked tours with us. But we are not 100% sure that you can get the permit from Tibet Tourism Bureau even you provide all of the information they need. Tibet travel is not responsible for any cancellation of your Tibet tours if you are refused to get a Tibet permit by the Tibet Tourism Bureau.