Best Time to Visit Tibet
No matter where you travel, it is important to go at the right time. If you are not familiar with Tibet, our experienced travel advisors will give you suggestions, information and help design a tour and provide a free quotation according to your specific requests, and giving advice based on their professional travel experience and knowledge.
This article is designed to help travelers choose the best time to travel to Tibet.
Tibet's weather is variable and changes from place to place, due to different landforms. Broadly speaking, the climate in Tibet is divided into 2 kinds— the climate in highlands and the climate in Southern and Western Tibet.
Climate in the Tibetan Highlands
The climate in Tibet highlands is diverse depending on the geographical location and may vary greatly from hour to hour on any day. It is not strange to see that local people wear thin long-sleeved in the daytime and thick overcoat at night.
Climate in Southeastern and Western Tibet
The climate is mild with an average temperature of 8 ℃ in southeastern Tibetan areas like Nyingchi. In western Tibet (e.g. Nagqu), the average temperature is below 0 ℃.
The climate in Lhasa and the central part of Tibet is mild. However, though the temperature is not high the sun is strong due to the high altitude. Summer is the best time to travel there in terms of the temperature.
The rainy season is from May to September. Ninety percents of rainfall focus in this period. In Chamdo, Shigatse and Lhasa areas, it usually rains at night. The precipitations decrease from 5,000 millimeters in the lower parts of southeastern Tibet to just 50 in the northwestern Tibet.
The Best Time to Visit Tibet
Most people prefer the period from April to October and it is probably the best time. However for those in good health, winter is not so bad and they will have the chance to see the other side of Tibet.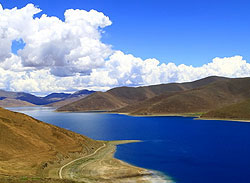 Traditionally, most say the best time to travel to Tibet is between April and October. The peak season is from May to September and the best of best months are May, June, September and October. Rainy season comes in July and August.
Tourists going hiking or traveling by car should try to avoid the rainy season, particularly when entering Tibet from Sichuan-Tibet Highway and sections between Lhasa and Nyingchi, Lhasa and Ngari. Mudslides, cave-ins and extremely muddy areas on certain sections often block the passage of vehicles.
Visitors traveling by train or plane and traveling in and around Lhasa should have no problem in traveling at any time from April to October.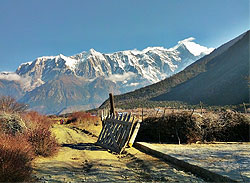 For tourists in good condition desiring adventure and seeing the different side of Tibet, winter time there should be no problem to visit Lhasa, Shigatse city and Nyingchi area. The other areas are not recommended in winter. People with heart diseases, chronic respiratory diseases, severe colds, and high-risk pregnant women should avoid this period.
The Best Time to Visit the Different Regions of Tibet
| Regions | Altitude | Best Time to Visit | Top Things to See/Do |
| --- | --- | --- | --- |
| Lhasa | 3650m(11,975feet) | All Year Round | Potala Palace/Bakhor Street |
| Nyingchi | 3000m(9,843feet) | March and April | Peach blossom village/Basongcuo Lake |
| Shigatse | 3835m(12,582feet) | From June to October | Magnificent grassland/ Mt.Everest |
| Chamdo | 3200m(16,499feet) | March, June and September | Kanuo Ruins /The Bolojirong Canyon/Yiri Hot Spring |
| Naqqu | 4507m(14,787feet) | From May to September | Yambajan/Nyainqentanglha Mountains/Horse Race Festival |
| Ngari | 4500m(14,764feet) | From April to September | Mt.Kailash/Guge Kingdom/Mapam Yumco Lake |
| Lhokha | 3600m(11,811feet) | All Year Round | Samye Monastery /Yamdrok Yumtso Lake/Trandruk Monastery |
It is time to move! Pick a suitable tour from the list:
6 Day Tibetan Discovery to Lhasa and Shigatse from $699 USD
Travel on the Roof of the World from $1279 USD
Gandan to Samye Monastery Trekking from $1389 USD