Transportation within Tibet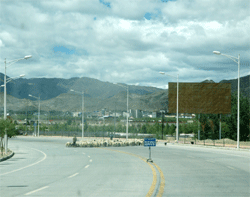 Considering the features of Tibetan tour, the best way is to rent certain kind of vehicle.
In general, the prices for renting vehicles are as below (they may change according to seasons):
Ordinary import cross-country vehicle: RMB3-3.50/km
Luxury import cross-country vehicle: RMB3.50-4.50/km
Mini bus for 20 persons: RMB5.50-6.50/km
Large bus for 40 persons: RMB5.50-6.50/km Besides, exploring and traveling in remote or depopulated areas, you'd better be equipped with a reserve car to secure rear service. On the one hand, for the transportation of food, tents and fuels; on the other hand, it may help to rescue when other cars are in danger.
In downtown Lhasa, there are many buses and all the tickets are sold for RMB2.00. It's convenient to reach each scenic spot. Taxi drivers don't like the automatic calculator to evaluate the cost and each ride will be charged with an average of RMB10. It will cost more if it's a little bit far, but you can bargain with the driver.