The Origin of Tibetan Nationality
In ancient times the ancestors of the present Tibetans lived along the both sides of the Yarlung Tsangpo River. In the 6th century the chieftain of the Yarlung tribe conquered several nearby tribes to become king. He was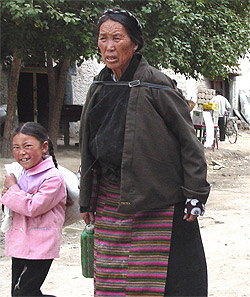 known as Zanpu (king), and established the Po dynasty. In the early 7th century Songtsen Gampo(his grandson) unified the whole of Tibet and shifted the capital to Lhasa. This is known to Chinese history as the Tupo kingdom. In 641, Songtsen Gampo married Princess Wencheng, of the Tang Dynasty, and was given the title of "the King of China's west". In 710, Xidezuzan (a king of Tibet) married Princess Jincheng of Tang Dynasty. The contacts between Tibet and central China had a strong influence on Tibetan society in the fields of politics, economics, and culture.
During the Yuan Dynasty of the 13th-14th century the central government appointed a department to manage affairs in Tibet and brought Tibet under their direct management. The Ming Dynasty set up a local government in Tibet, and the Qing Dynasty subsequently appointed a ministry to deal with affairs in Tibet and Mongolia. The central government officially approved the title of Dalai Lama in 1653 and the title of Panchen Lama in 1713. In 1728 a resident minister in charge of the Tibetan affairs was appointed, followed by the creation of the "Gexia", or Tibetan local government, in 1751.
In 1934 the Government of the Republic of China set up a resident agency to administer affairs in Tibet, and in 1959, Tibet Autonomous Region was established.