Shigatse Transportation
Traffic Situation
Traffic in Shigatse is based solely on highway transportation. It is the traffic centre of Tibet with highways extending to all directions, including National Highway 318, Shigatse-Yatung Highway, Lhasa-Purang Highway and China Nepal Friendship Highway.
There is a 250-kilometer distance between Xinlu and Shigatse. Setting out from Shigatse, you will find that China Nepal Friendship Highway and Shigatse-Yatung highway lead through to Lhasa, Shiquanhe and Nepal, connecting with 17 county seats in Shigatse, which have formed a comparative complete net of highway transportation. The only airport, Gonggar Airport, is about 400 kilometers away from Shigatse, you can go there by coach but need a transfer at Chusul. Heading to Shigatse from the airport, you should choose the coach marked 'Zang C'.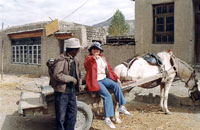 Now, the highways have formed a network and the total mileage has reached nearly 8,000 kilometers. Besides, the condition of the road is becoming better and better.
Lhasa-Shigatse
At the crossing of Beijing Road between Balangxue and Good Day Hotel in Lhasa, private buses to Shigatse are available from 7:30 am-20:00pm, 38yuan per person, 8-hour distance. There are also large buses at the bus station in Lhasa with longer hours and expensive price however.
Reference rents of cars:
Imported cross-county cars of common version: 3.00-3.5yuan/kilometer
Imported cross-county cars of luxurious version: 3.4-4.5yuan/kilometer
Microbus with 20 seats: 5.5-6.5yuan/kilometer
Coach with 40 seats: 7.00-8.00yuan/kilometer
Shigatse-other places
There are regular coaches for Lhasa or Sakya and irregular ones for Yatung everyday or on alternate days, whose schedule and number of runs depend on the number of passengers.
There are buses for other places at the bus station in Middle Liberty Road. Private microbuses to Gyantse, Lhatse or Lhasa are also available on road or in the west of Tashilumpo Monastery Square, scheduled from 7:30am-20: 30pm. Those who want to go to Lhatse should wait in the west of Tashilumpo Monastery Square (06:00am-21:00pm), the buses won't start until with capacity crowd so it is possible for them to cancel the previous plan due to small number of passengers. Those who choose Gyantse or Lhatse can take private medium coach outside the bus station (early moring-15:00pm). Those whose destination is Lhasa should wait for the bus at the place opposite the Industrial and Commercial Bureau in Gongjuelin Road.
Renting cars:
It is available at the China International Travel Service near the Shigatse Hotel. Reference prices are as following:
Rongbuk Monastery: 3,400yuan for three days
Rongbuk Monastery plus frontier of Nepal: 3,800yuan (4,400yuan for a round trip)
Inner Traffic
Shigatse is quite small. Walking is the most convenient way. Tricycles charge 2-3yuan per person and you can bargain. Taxis all charge 10yuan.
Gyantse
From Gyantse, you can go eastward to Lhasa or Shannan, northward to Shigatse, westward to Tingri via Gangba and Tingjie, southward to Yatung, a frontier port, via the beautiful Yadung Gully across the Himalayas.
Lhasa-Shigatse-Gyantse
You can find microbuses outside the bus station in Middle Liberty Road in Shigatse, 12yuan per person, 77 kilometers, about 2 hours.
Irregular microbuses for Shigatse are available at the main crossing.
Sakya
Shigatse-Sakya
Coaches are available at the Shigatse Bus Station, 7:30am-8:00am, five-hour distance, approximate 27yuan per person.
Sakya-Shigatse
The coaches will head back from Sakya the next day at the gate of the Sakya Hostel.
Sakya- Lhatse/Shegar
Go back to China Nepal Friendship Highway firstly by hitchhiking or taking a tractor, then taking the passing coach or thumbing for a lift.
Tingri
It faces Tingjie and Sakya on the east; connects with Nyalam on the west; meets Angren on the north; joints with Lhatse on the northeast; borders Nepal on the south.
Shigatse-Shegar
Take a microbus to Lhatse and then try to find other coach at about 40yuan.
Shegar- Rongbuk Monastery/Everest Headquarters/Zhangmu
No coach or any other vehicle for this route. You'd better charter a vehicle at Lhasa or Shigatse.
Nyalam
Nyalam-Zhangmu
There are lots of buses which head for the frontier to pick up tourists passing here and usually leaving before 10:00am, so you can take a lift to Zhangmu here.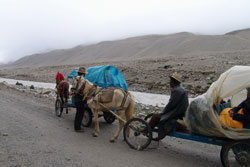 Lhatse
With extended area and convenient traffic, Lhatse is the only access to the seven county seats in the west of Shigatse. National Highway 318 (Sino-Nepal) crosses the south and connects with National Highway 219 (Lhatse-Yecheng), which starts from Chawu to Yecheng via Ali. The overall length of the part of the two national highways within Lhatse is 122 kilometers. 150 kilometers away from Shigatse and 430 kilometers from Lhasa via Shigatse on the east, 370 kilometers away from Zhangmu Port on the southwest, Lhatse is one of the biggest county seats in the west of Shigatse, with significant geographic location and strategic position.
Shigatse- Lhatse
Microbuses are available in the west of Tashilumpo Monastery Square, starting with capacity crowd, 30yuan per person.
Lhatse-Shigatse
At the place about 150 meters east of the Lhatse Hotel, you can take vehicle to Shegar at 40yuan or Zhangmu at 150yuan over which you can bargain.
Zhangmu
Shigatse-Zhangmu
Most tourists charter a vehicle to Zhangmu. If not, you need to inquire about the time in advance for the coach from Shigatse to Zhangmu is irregular. With enough passengers, it will usually start at 9:00am, a 2-day journey (one night spent at Tingri), and 70yuan per person.
Tips:
1. The general condition of the road from Shigatse to Lhasa is good and will be better by National Highway 318. But you will have to circumambulate when the road is being repaired. Also, this suffering experience will usually last 5 hours.
2. There will be strong wind with sands on the road, which likely cause altitude striss, so please don't eat too much, take some vegetables and fruits and drink more water.
3. Prepare some common drugs as following: drugs against respiratory diseases (such as cold, cough), including drugs against fever, inflammation and toxic heat; an anti-inflammatory ointment to deal with the dryness of the nasal cavity and prevent your nose from blooding; carsickness drugs; calmative for those who come to the altiplano for the first time; digestant, antidiarrheal and drugs for traumatic injuries are essential for those who are going to travel for a long time.
4. It takes at least 7 hours to travel by jeep from Lhasa to Shigatse. If so, the rent of a Toyota (old version) is 5,800yuan, barring charges for going up into the mountain (410yuan per jeep) and environment protection (65yuan per person); there are 5 seats for each jeep.