Attractions of Mt.Everest
Gama Valley is located at the lower reaches of Pongqu River in Tingri. The north bounds reaching Karizangpu and Kamazangpu River, the south bounds arriving at the board of Sino-Nepal, adjacent to Chentang in the east, backed up by Mt.Everest. Gama Valley enjoys a reputation of the most beautiful Valley in the World. Gama Valley is famous for the luxuriantly green forest, colorful cuckooflowers, limpid spring, deep and steep gorges and various birds. What's more, the splendor scenery of Mt.Everest can be easily seen here. Besides enjoying Mt.Everest, you can also clearly share the view of the world's fouth highest peak-Mt. Lotsi from the east slope, and the world's fifth highest peak-Mt Makarluh from the North Slope.
Zhangmu Valley (2,400 elevations) is located in Nyalam County, south from the Nyalam County (3,700 elevations) to Sino-Nepal Board Friendship Bridge, where it is cool in summer, warm in winter. The four seasons here are just like spring because it is mild and rainy here all the year round. Zhangmu port is the first grade land port in China, and also the most prosperous port in Tibet.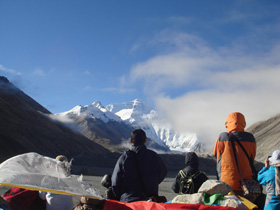 Yatung Valley (2,800 elevations) lies in Yatung County, down straight from Pali Town (4,700 elevations), across up Yatung, down Sima Town, down Yatung, east to Bhutan, south to India. In the county, you can find Liangpu hot spring, virgin forest and all kinds of mountain chicken, rabbits, white monkeys, roes and Yatung fish, most of which are national protected rare animals.
Jilong Valley is located at the mid-lower reaches of south Jilong County, south to the Resuo Bridge on Sino-Nepal board. Jilong Valley is the largest and the most beautiful forest sightseeing area in Mt. Qomonlangma Natural Scenery Protection Area. The natural view here along with the local various culture, water sight and historical ethnic culture compose a highlight point in the Protection Area, including Mt. Yangrankangri, Langbokangri, virgin forest and Chongduimo Caved Image.
Recommend Tibet Tours with Mt. Everest