Tsubu Monastery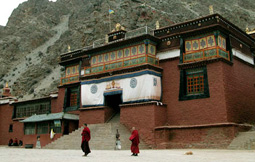 The Tsubu Monastery, also known as the Tolung Tsurpu, is in a small town call Gurum, which lies about 70 kilometers outside the Tibetan capital of Lhasa. It served as the seat for the for Karmapa, who was the head of the largest sub-school of the Kagyupa, a major school of Buddhism. The monastery was founded in the 12th century by the first Karmapa.
What is unique about this temple is it's location. At over 14,000 feet (roughly 4,250 meters) above sea level, the monastery was built in a beautiful valley with towering, majestic mountains looming over the sacred grounds. It is an active temple, with monks actively worshipping, performing spiritual readings, recitings and Buddhist chants. Between the landscape and the live rituals, Tsubu will be an experience that you will never forget. Once a month, there is a small festival in which the Buddha of Garmapa touches the heads of any and all visiting locals and tourists. For those lucky enough to hit up the monastery at the right time, they will be blessed by the holy man. It is said that if he touches you on the head, you will be virtually free from any negative energy and disaster for the remainder of your life. Just like the Ramoche Temple, the Tsubu also is known for its rare relics. Thus making it is a well preserved and protected site.
Admission: 30rmb
Hours: 9:00am - 2:00pm
Getting There: Gurum in Tolong Dechen County, about 70 km from Lhasa. Buses to Tsubu Monastery leave from side street 200 meters southwest of the Jokhang Temple every early morning. Expect the trip to take 4 hours.