Taglung Monastery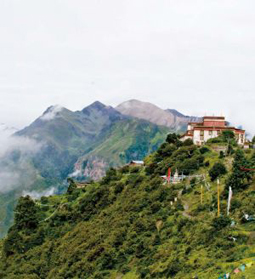 The Taglung Monastery, also spelled Taklung, was once a vast and sprawling monastery in the fertile fields of the Pak-chu Valley. It was destroyed during the Cultural Revolution, although the site is currently rebuilding. Taklung Tangpa Tashipal began building up the site in the 12th century to house the Taglung school of the Kagyupa order.
With its massive size, it could easily hold hundreds if not many thousands of monks at a time. The most memorable building from the complex was the Tsuglhakhang, or the Red Palace. Other halls containing relics, debating areas, murals and statues can be imagined as they once were when the site was originally standing. The main Assembly Hall, the Reliquary Lhakhang and the Jampa Lhakhang, as well as many other smaller buildings were reconstructed and restored to their original brilliance. Unfortunately, recent earthquake in 2010 once again damaged the facilities.
Getting There: It is located 120 kilometers, or 75 miles, north of Lhasa. Journey from Taklung heading east and then south to Chak La and the Phenpo Chu Valley.It is 24 miles to the north of Phongdo Dzong. It is possible to get there without car. A scenic 4-5 hour walk to Phongdo Dzong, and another 7 hours or more to Reting will make for an unbelievable hike.