Samding Monastery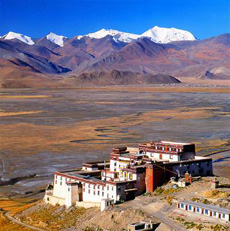 Scenery at the Samding Monastery, or Samding Gompa is one of the most breath taking landscapes you might encounter your entire Tibet trip. Nestled on the edges of the sacred lake Yamdrok Tso, it is perfectly balanced on a ridge that splits the northern and southern arms of the lake. Views of the Dumo plains and mountains in the southern sky paint the horizon.
What makes the monastery so unique is its strong female presence. It is traditionally headed by a female lama, called Dorje Paghmo, the highest female incarnation in Tibet. Legend has it that when the Mongolian armies invaded the monastery, the lama changed her nuns into swine to help them flee the invading army. The gompa was destroyed in 1959, and is in the process of being rebuilt and restored. Visitors can currently visit the main assembly hall, the courtyard and are privy to the Katyamuni statue, as well as a sacred foot print from one the many Dorji Phagmo.
Admission: 30rmb
Hours: 9:00am – 5:00pm
Getting There: about 10 km east of Nangartse, 115 miles southwest of Lhasa. Two hour walk from Nangartse. It is often visited by landcruiser as a side trip while visiting the Yamdrok Yumtso.