Potala Palace
The Potala Palace, which is now on the list of Chinese national key protected cultural relics, is the most valuable storehouse in Tibet. It is a huge treasure house for materials and articles of Tibetan history, religion, culture and arts. The Palace is widely known for the precious sculptures, murals, scripture, Buddha figures, murals, antiques, and religious jewelry treasured up, they are of great cultural and artistic value. In 1994, the Potala Palace was declared the United Nations World Cultural Heritage site.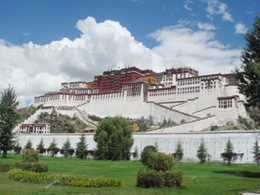 Add: On the Moburi (Red) Mountain, the northern part of Lhasa, Tibet.
Ways of getting to the top:
By taxi from the back of the hill.
Climbing up from the front path.
Opening time: 9:30am- 13:00pm; 15:00pm--18:00pm
Price for the Ticket: RMB 100 yuan per person
The Potala Palace Travel Tips:
1. Visiting the golden roofs costs an extra fee of RMB 10 yuan. Taking photos inside the room also charges extra fee, the prices are clearly shown in the rooms.
2. More rooms are available in hotels on Monday, Wednesday and Friday.
Potala Palace Photos from Flicker
Read more about Potala Palace: