Drak Yerpa Monastery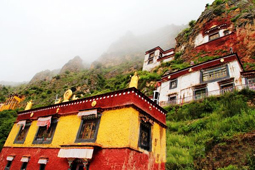 What's unique about the Drak Yerpa Monastery is the large number of meditation caves in the surrounding hills. Some of the caves even date back to ancient times. Located in the Yerpa valley, overlooking the Kyichu River, the limestone ridges have formed caves that housed sacred mountain retreats, some even possibly predating Buddhism. Originally over a hundred caves are named, but an only a handful remain today. The site was built by Songtsan Gampo to honor his wife some time in the mid-7th century. Small temples were built around the caves. The housings slowly gathered and grew in numbers and eventually formed the monastery. It is one of the most famous and regarded sites around Lhasa. According to an old Tibetan saying from a folk song that Lhasa is the shrine of Tibet; Drak Yerpa is the shrine of Lhasa. Not seeing Drak Yerpa in Lhasa is just like making a dress without the collar.
Admission: 20rmb
Hours: 9:00am - 6:00pm
Getting There: Short drive east of Lhasa, located on the northern bank of the Kyichu River. Regular buses run from the Jokhang Temple Square in the early morning and cost around 20rmb for a round trip. The ride takes only 30 minutes.