Dorje Drak Monastery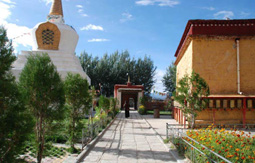 Literally translating to the "Indestructible Rock" the Dorje Drak Monastery is in such a remote location, that many travelers to Tibet don't get a chance to see what's left of the site. It is located on a rock cliff, on the northern bank of three holy lakes, named the Yamdrok Tso. It belongs to the Nyingma School of Buhddism, and is one of the most important locales for the teachings. The monastery was relocated to the present site when Tibetans were forced to flee the rulings of the king of Tsang. It saw destruction in the Dzungars invasion in the 1700s and once again was taken down by the Cultural Revolution. Since then, the site has been rebuilt through present visions of the Dordrak Rigdzin reincarnate, along with help from the local community. Refurbished paintings inside the halls depict the Hundred Peaceful and the Wrathful Deities. While at Dorje Drak, walk the Kora, or pilgrimage, route that takes you up and around Vajra Rock. The path also crosses by various rock paintings and sacred footprints.
Getting There: located on the north bank of the Yarlung River, Brahmaputra. Because of rugged landscape, a ferry is often needed to arrive at the monastery. From Tsetangto Mindroling, then across the Tsangpo eventually to the monastery.