Dezhong Hot Spring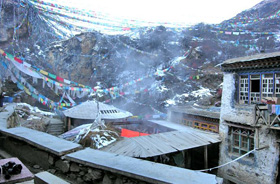 Located on Tidrum Valley in Medro Gongkar at an altitude of 4590 meters, Dezhong Hot Spring has a history of over 1400 years. Tidrum Village (Dezhong village) is a small Tibetan village in a valley about 140 kilometers from Lhasa. The houses in the village are built along the hillside and the alpine pastures.
Dezhong Hot Spring is regarded as a holy spring in Tibet because according to legend it has been blessed by Guru Padmasambhava. It has a moderate temperature, abundant mineral content and is reputed to treat many diseases. Although the conditions are primitive, it attracts many local Tibetans. The hot spring pool is made from stones to form a small swimming pool. The pool is divided into male and female and separated by a stone wall. Bathe in pool and get incredible views of Snow Mountain at the same time.
Tips:
1. De Zhong Hot Spring is 140kms from Lhasa and takes 6 hours because of poor road conditions.
2. On the way to the De Zhong Hot Spring, visitor can see Black-necked cranes and also can visit Drigung Til Monastery which is 7kms from De Zhong Hot Spring.