Lhasa Carpet Factory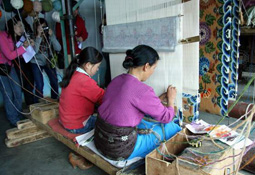 For a unique and one-of-a-kind Tibetan experience, visit the historical Lhasa Carpet Factory. Inside the factories walls, hundreds of workers use old-styled looms to weave some of the best carpets around. Now famous in most countries, the rugs are exported all over the world. The rugs come in all shapes, sizes, weights, thread counts and colors. Many make great souvenirs and can be admired as wall hangings or used as sturdy floor coverings. The tradition of weaving carpets in Tibet dates back over 900 years. Back then, women were the sole weavers, but modern day sees men up in the ranks as well. Most, if not all, of the craftsmanship is done by hand. The wool, either from sheep or yak, depending on the rug being made, is spun, dyed and woven by one of the 300 individual workers employed by the factory. Thus making it is the largest manufacturer of rugs throughout Tibet. Look for bold prints and bright colorful pattern. And why not get a Tibetan rug while you are right at the source? You will want a piece of traditional Tibet memorabilia to enliven your space back at home.
Admission: Free
Hours: 8:30am - 5:30pm
Add: it's located south of Yanhe Dong Lu near the Tibet University in Lhasa.