Bird Watching along Brahmaputra River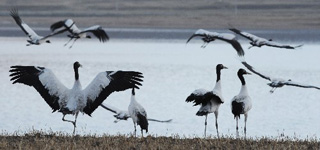 At an altitude of 3,700 meters, Lhasa attracts the tens of thousands of migratory birds in winter because it is in a moist valley. Black-necked cranes, red duck, bar-headed geese are frequent visitors and especially at the Brahmaputra River and reservoir.
The Tibetan people's belief in Buddhism prevents them from killing so these birds are not afraid of humans and visitors can observe them closely.
Tips: Visitors can watch the birds for the whole day but the best time for photographs is after 3:00 pm.