Gongkar Chode Monastery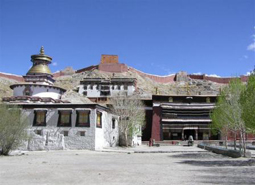 Dating back to the mid-15th century the Gongkar Chode Monastery was the main monastery for the Dzongpa. It belongs to the Sakyapa school of Buddhism, a part of the Zung sect.
Just meters south of Lhasa road, on the south side of the Tsangpo River, some of the most beautiful movements of Tibetan were developed in the Gongkar Chode. Artist Jamyang Kyentse Wangchug developed his signature form of painting, the Kyenri style, within the sacred walls. Some murals are still intact to this day while others have been beautifully restored. Look for the most prominent ones in the Hevaja Chapel and the Old Gonkang. The festival of Mandala, an annual ritual performed by the monks, is held here from the 6th to the 15th of the first lunar month of the Tibetan calendar. Carya, Yoga and Tantras are preformed. Dancers perform offerings over and over throughout the festival. A thousandfold offering is placed upon the last day of the festival. After this happens, there is a procession with all kinds of celebrations. Participants blow horns, offer incense, wave streamers and flags. And a fire ritual is preformed on the last night, offering one last gift to the protectors.
Getting There: Gongkar County, Shannan Prefecture in Tibet. Very close to the Gonggar Dzong and the Gonggar Airport. Approximately 75 kilometers from Lhasa.